We have been organizing the workshop focusing on an interdisciplinary field consisting of ferroelectricity and spintronis/magnetics with support from Tohoku branch and Spintronics Society of Applied Physics Society of Japan since 2014. This group has been established with an objective to create a new research field that combine spintronics and ferroelectricity by peoples from the both research fields.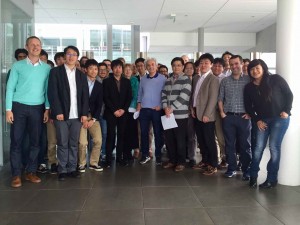 ➡ Program Click here.
What's New
2018.09.27
(日本語) ☆☆☆強的秩序とその操作に関わる研究グループ 第8回 研究会☆☆☆

2018.05.22
Lecture "Study on Oxide Epitaxial Thin Film"


Date: June 20, 2018 (Wed) 13: 30 – 16: 45

Place: Tokyo Institute of Technology Suzukakedai campus (R3 building 1F meeting room)

Speaker: Bae In-Tae (State University of NY), Kitamura Miho (KEK), Ohya Shinobu (Tokyo Univ.)

Inquiries: Yasui (TIT), Naganuma (Tohoku Univ.) ferroic@atomol.che.tohoku.ac.jp

* Co-sponsored project with Tokyo Institute of Technology Frontier Laboratory.